Evidence will be produced to prove that Modern Communism was organized in the year 1773 by a group of International Money-Barons who have used it since, as their manual of action, to further their secret plans to bring about a Totalitarian Godless State. Lenin made this clear in his book Left Wing Communism. On page 53, he said: "Our theory (Communism) is not a dogma (Settled Doctrine); it is a manual of action. Many modern leaders have said and done the same things as Lucifer did during the heavenly revolution. There is no appreciable difference between Red and Black Atheism. The only difference is in the plans used by the opposing leaders to ultimately win undisputed control of the world's resources, and bring into being their ideas for a Totalitarian, Godless Dictatorship.

SOURCE: PAWNS IN THE GAME, page 4, by William Guy Carr, 1958.
The Forces of Evil realize that in order to win undisputed control of the material assets of the world, and establish an Atheistic Materialistic Totalitarian Dictatorship, it is necessary to destroy all forms of constitutional government and organized religion. In order to do this the Force of Evil decided they must divide the peoples of the world against each other on various issues. Dating back into antiquity the Aryan and Semitic races were driven into enmity against each other to serve the secret ambitions of their atheistic-materialistic leaders. Had the people's of the Aryan and Semitic races remained steadfast to their belief in God, and faithful to His commandments, the Force of Evil could never have accomplished their evil purpose.

---

"The New Age Movement, the Humanist Religion, and the Communists have made a god out of man; they have deified mankind. The new morality for a man-god is whatever he decides it is, and that is what the New Age-Humanists-Communists have done. Their new morality is called Situation Ethics."

SOURCE: The New World Order, pg. 217, by Ralph A. Epperson; 1990; ISBN: 0-9614135-1-4; publisher: PUBLIUS PRESS, Tucson, Arizona.

"To achieve world government, it is necessary to remove from the minds of men their individualism, loyalty to family tradition, national patriotism, and religious dogmas."

SOURCE: Speech, Conference on Education, Asilomar, California, September 11, 1954
"I wish to avenge myself against the One who rules above. We must war against all prevailing ideas of religion, of the state, of country, of patriotism. The idea of God is the keynote of a perverted civilization. It must be destroyed."

SOURCE: Epperson, New World Order, pg. 119
Feminism is a grotesque fraud perpetrated on society by its governing elite. It is designed to weaken the American social and cultural fabric in order to introduce a friendly fascist New World Order. Its advocates are sanctimonious charlatans who have grown rich and powerful from it. They include a whole class of liars and moral cripples who work for the elite in various capacities: government, education and the media. These imposters ought to be exposed and ridiculed.

Women's oppression is a lie. Sex roles were never as rigid as feminists would have us believe. My mother had a successful business in the 1950's importing watchstraps from Switzerland. When my father's income increased, she was content to quit and concentrate on the children. Women were free to pursue careers if they wanted to. The difference was that their role as wife and mother was understood, and socially validated, as it should be.

Until Gloria Steinem and the CIA came along.

SOURCE: Gloria Steinem: How the CIA Used Feminism to Destabilize Society, by Henry Makow, Ph.D.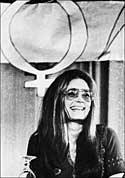 As a tragic consequence of the evils of feminism (i.e., the women's liberation movement), America has been cursed with murderous abortion, vile lesbianism, a skyrocketing divorce rate, and a cesspool of other sins. Feminist women have been duped by the Devil, falling hook, line, and sinker into his diabolic plot to kill, steal, and destroy (John 10:10).
Feminism isn't about equal rights for women, it's about rebellion against God and the authority which God has ordained in our homes, churches, and government. Feminists want equality of authority, just as Satan wanted equality of authority with God (Isaiah 14:14). The Bible commands a wife to obey her husband (1st Peter 3:1). Women are forbidden to have authority over men in the church (1st Timothy 2:12). Feminism is a rot to America.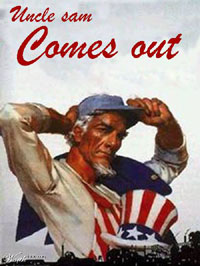 Please read my article, Communism and Moral Decay. Also, please read the article by Dr. Henry Makow, Uncle Sam Wants YOU Gay (Your Children Too). Read America is Going to Hell, to find out about a town in America where teens walk around completely naked. Rock 'N' Roll music has destroyed America, saturating it's youth with a demonic religion of immoral sex, rebellion and substance abuse. As a result, fornication has led to over 50,000,000 unwanted pregnancies and abortions in America.
Most women today scoff and laugh at the idea that a lady shouldn't wear pants. It's these same immodestly dressed women who see no harm in murdering children by abortion. Abortionists talk about a woman's rights, but what about the baby's right to live? What about God's rights? Communism is cruel, calloused and merciless, just as is abortion. The hallmark quality of the Christian life is CARING! Most people today don't care.

According to William Guy Carr, a diligent historian and Commander in the U.S. Navy, every war and revolution since 1776 has been financed on BOTH SIDES by the monstrous International Banking Cartel...
"While the general public has been led to believe that Communism is a movement of the workers (Soviets) to destroy Capitalism, "Pawns In The Game" and "The Red Fog Over America" prove that both British and American Intelligence Officers obtained authentic documentary evidence which proved that internationalist capitalists operating through their international banking houses had financed both sides in every war and revolution fought since 1776. Those who to-day compromise The Synagogue of Satan direct our governments, whom they hold in usury, to fight the wars and revolutions so they further Pike's plans to bring the world to that stage of the conspiracy when Atheistic-Communism and the whole of Christendom can be forced into an all-out war within each remaining nation as well as on an international scale.

[emphasis added]

There is plenty of documentary evidence to prove that Pike, like Weishaupt, was head of the Luciferian Priesthood in his day."

SOURCE: PAWNS IN THE GAME, Introduction, page XVI, by William Guy Carr, 1958
You'll never learn that in Public School. General Albert Pike, one of the most influential leaders of Freemasonry, was a known worshipper of Lucifer...
"That which we say to the crowd is 'we worship God.' But it is the God that one worships without superstition. The religion should be, by all us initiates of the high degrees, maintained in the purity of the Luciferian doctrine... Yes! Lucifer is God. And unfortunately Adonay (the name given by Luciferians to the God we worship) is God also... for the absolute can only exist as two gods. Thus, the doctrine of Satanism is a heresy: and the true, and pure philosophical religion is the belief in Lucifer, the equal of Adonay: but Lucifer, God of Light, and God of Good, is struggling for humanity against Adonay the God of Darkness and Evil. "

SOURCE: PAWNS IN THE GAME, Introduction, page XVII, by William Guy Carr, 1958
Communism, Freemasonry, and Lucifer worship are all synonymous with the New World Order [NWO]...
"Pike accepted the idea of a One World government and ultimately became head of the Luciferian Priesthood. Between 1859 and 1871, he worked out the details of a military blue-print, for three world wars, and three major revolutions which he considered would further the conspiracy to its final stage during the twentieth century."

SOURCE: PAWNS IN THE GAME, Introduction, page XV, by William Guy Carr, 1958
The diabolical purpose of creating wars and revolutions is to bring about One World government. Here's a free (.PDF) online version of PAWNS IN THE GAME if you'd like to read the entire book.

The U.S. is Being Controlled by a Criminal Syndicate of New World Order Gangsters!
The U.S. government has been hijacked by criminals! Now, that's one of your own elected officials, Cynthia McKinney, who said that. She is 100% correct! The Council On Foreign Relations (CFR) is the sworn enemy of America's sovereignty as a nation. Read what David Rockefeller, chairman of the CFR, said about America... IN YOUR FACE! America is being exploited by the CFR to bring to fruition a New World Order (i.e., the Beast system of the coming Antichrist). Believe it or not, it's happening right in front of our faces.
The "criminals" which Congresswoman Cynthia McKinney is warning us about operate through the CIA (i.e., the Central Intelligence Agency). Concerning the evils of the CIA, Dr. Makow states...
"Our main misconception about the CIA is that it serves US interests. In fact, it has always been the instrument of a dynastic international banking and oil elite (Rothschild, Rockefeller, Morgan) coordinated by the Royal Institute for Internal Affairs in London and their US branch, the Council for Foreign Relations. It was established and peopled by blue bloods from the New York banking establishment and graduates of Yale University's secret pagan "Skull and Bones" society. Our current President, his father and grandfather fit this profile.

The agenda of this international cabal is to degrade the institutions and values of the United States in order to integrate it into a global state that it will direct through the United Nations."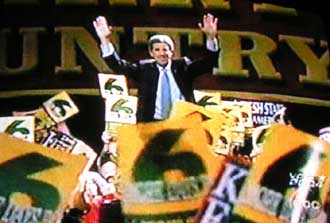 Our nation has been hijacked by criminals! Take your pick of a one-world Democrat, or a one-world Republican. American's have their heads buried in the sand, including Christians. The photo to the right is of John Kerry campaigning back in 2004. The illuminati prides themselves in mocking the stupidity of the public.
The evils in Washington couldn't be any more blatant; yet, most people can't see the forest for the trees. John Kerry and George W. Bush Jr. are BOTH lifelong members of the occult, Skull and Bones, organization. Wake up America!
Our borders have deliberately been left wide open to further the Communist subversion of America, allowing tens-of-millions of illegal aliens to infiltrate our nation; thus, weakening our economy, bankrupting our hospitals, raising our crime rate, overpopulating our prisons, lowering overall wages, and overburdening our already struggling public school system. Yet, as Americans cry for justice, we are ignored by the calculated criminals who have taken control of our nation; namely, the international bankers...
"Al Capone and his gangsters were gentleman in comparison with the international bankers."

SOURCE: PAWNS IN THE GAME, Chapter Five, page 52, by William Guy Carr, 1958.
Karl Marx's 5th Plank of his Communist Manifesto was a Central, monopolizing, Bank. The biggest Communist subversion of all in America is the criminal Federal Reserve Act, i.e., Marx's dream come true! William Guy Car states...
...the Federal Reserve Act of 1913. The vast majority of American citizens honestly believe that this act protected their interests, and placed the Federal Government in control of the nation's economy. Nothing is further from the truth. The federal Reserve System placed the affiliated bankers in America and Europe in position to bring about and control World War One. This statement will be proved.

World War One was fought to enable the International Conspirators to bring about the Russian Revolution in 1917. These facts illustrate how history does repeat itself and why. By means of similar plots, and intrigue, the International Bankers had brought about the English Revolution (1640-1649); and the Great French Revolution of 1789.

SOURCE: PAWNS IN THE GAME, Chapter Six, page 62, by William Guy Carr, 1958.
Americans today are in debt to the International Banksters for well over $100,000,000,000,000 when you take into consideration personal, local, state, federal, and mortgage debt owed by America. The federal debt by itself is nearly $10,000,000,000,000!!! Who do you you think we owe all that money to? If you guessed the International Bankers, you're correct! The "Federal Reserve Bank" is a misnomer. It is not "federal"; but rather, PRIVATELY owned. There is NO reserve! For a better understanding of how this criminal system works, please read, The U.S. Is In Deep Doo Doo!
The international money-lenders have obtained economic control of the United States in order to further their long range plan of a New World Order, i.e., a global totalitarian police state, under the iron control of the Council On Foreign Relations. This will be the seventh king prophesied of in Revelation 17:10, and the Antichrist will be the eight and final king (17:11). The "kings" represent world powers throughout history; namely, Egypt, Assyria, Babylon, Medo-Persia, Greece, and Rome.
Rome was the dominating world power at the writing of the Book of Revelation. Rome fell in the 5th century A.D., and there have not been any world powers since. Today we have several super power nations, but NO world power. The revived Roman Empire will be the New World Order, a world power, i.e., the Beast system awaiting the coming of the Antichrist. Truly, we are living in the last days.
"A free and vigilant people should never have tolerated this for a minute. The income tax is an inherently communistic tax, because one of the prerequisites of freedom is a sphere of privacy. And if you destroy the material foundations of that sphere of privacy, you have destroyed the possibility of freedom." - Alan Keyes



Very few people today realize the extent to which the New World Order gang, i.e., the illuminati puppeteers, are in control of everything from the music industry to The White House in Washington D.C. Not surprisingly, they are also behind the Zionist Movement, for most of them are Jews themselves. Please read, Is the New World Order Jewish? Jesus promised to regather Israel when HE RETURNS, not before (Jeremiah 23:5-8). Keep in mind that William Guy Car wrote his book, PAWNS IN THE GAME, back in 1958; yet, you'd think it was written in 2007. He states...
The Secret Power

[Illuminati]

behind the World Revolutionary Movement also controls political Zionism, yet the vast majority of the Jews who work for Zionism are absolutely ignorant that they also are being used as "Pawns in the Game" of International Chess.

SOURCE: PAWNS IN THE GAME, Chapter Eight, page 82, by William Guy Carr, 1958.
Please read, Zionism Verses the Bible for a better understanding of this matter. Many preachers today have fallen for Zionism, and thus blame Islam for 911. Nothing could be further from the truth. It is the same illuminati criminals who have opened our borders, removed God from our public schools, are bankrupting America, and have demoralized American society, that were behind the 911 attacks...
"This present window of opportunity, during which a truly peaceful and interdependent world order might be built, will not be open for too long - We are on the verge of a global transformation. All we need is the right major crisis and the nations will accept the New World Order."
Most people don't think of the New World Order in terms of Communism, but Communism is the primary vehicle by which the New World Order is being achieved. Whether it be Nazism or Communism, both of these atheistic ideologies have one primary goal, world domination.
Pulitzer Prize recipient Theodore White wrote that the Council's "roster" of members has for a generation, under Republican and Democratic administrations alike, been the chief recruiting ground for cabinet-level officials in Washington."

SOURCE: Perloff, Shadows Of Power, pg. 7
World War Two was started in order to enable the Illuminati to finally rid themselves of the barriers of caste and creed and prejudice. Their ideas regarding a new civilization had to be built through a world at war. In proof of the above statement a portion of the broadcast Sir Anthony Eden addressed to America on September 11th, 1939, is quoted. He said: "Can we finally rid Europe of the barriers of cast and creed and prejudice?... Our new civilization must be built through a world at war. But our new civilization will be built just the same.

SOURCE: PAWNS IN THE GAME, Chapter Sixteen, page 156, by William Guy Carr, 1958.
"What utter rot. Wars are destructive not constructive."


SOURCE: PAWNS IN THE GAME, Chapter Sixteen, page 156, by William Guy Carr, 1958.

"One of the earliest attacks on religion in America occurred in 1771. Three Baptist ministers, all from the same church in Ruther Glen, Virginia, were arrested and imprisoned for preaching without a government license. Through the able defense of Patrick Henry, the ministers were acquitted, establishing for other ministers their right to preach and conduct church ministries free of governmental interference.

Yet, almost 200 years later, this same church was fined $250 a day for once again refusing to obtain a license from the state, this time for failure to obtain a license to operate its educational ministries.

An organization formed to fight such cases for the cause of religious freedom is the Coalition for Religious Freedom, located in Washington D.C. They reported in 1987 that:

'the last 15 years have seen more religious freedom cases than any time since the American Revolution.' (The Crisis in Religious Freedom newsletter, published by the Coalition for Religious freedom, Washington D.C., 1987, pg. 1)

The battle lines are being drawn. The Humanists/Masons/Communists/New Agers are waging war against the Christian religion. The New World Order is getting closer.

SOURCE: The New World Order, pg. 277-278, by Ralph A. Epperson; 1990; ISBN: 0-9614135-1-4; publisher: PUBLIUS PRESS, Tucson, Arizona.

Although the eventual ascendancy of the Antichrist to a position of global power is inevitable, the ascendancy of Communism is certainly not. Every day that Communism's march toward global hegemony is retarded is, in Christian terms, another day to rescue a few more souls from Satan's grasp and in political terms, another day to live in that uniquely gentle form of freedom found only in America.

William T. Still, pg. 145, New World Order: The Ancient Plan of Secret Societies (Lafayette, La.: Huntington House Publishers, 1990)
Is it not time Christians woke up to the realization of their danger? Is it not time parents refused to allow their children to be used as cannon fodder to serve the Luciferian cause? Is it not time we became "doers" of the WORD of God instead of "hearers" only?

SOURCE: PAWNS IN THE GAME, Introduction, page XX, by William Guy Carr, 1958.